Pentair Drinking Water System
The Pentair FreshPoint Reverse Osmosis System delivers high-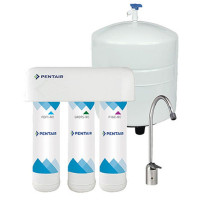 quality, great-tasting drinking water, with easy installation and filter changes. The GRO System offers 3-stage or 4-stage filtration depending on your unique water quality needs.
Available Downloads:
Schedule a Service
Schedule a RO Filter Change with our helpful Service Team!
Kalita Lindig, Administrative Operations Manager, has her team on the ready to schedule your next service with us!