Process & Water Commercial Reverse Osmosis Systems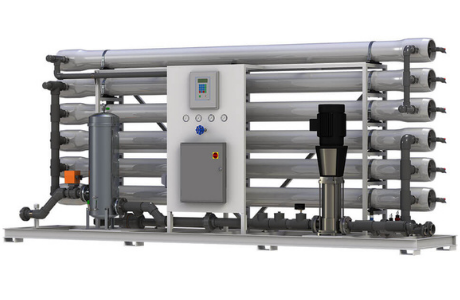 Options:
Benefits:
Innovative Membranes:

Low pressure TFC (thin film composite) membranes for maximum rejection of impurities while achieving high product flows.

Corrosive Resistant Membrane Housing:

All plastic membrane housing that require no tools when servicing.

American Made RO Controller:

Highly reliable RO controller with 2-cell built-in TDS water quality monitor, tank full contacts with an optional product water distribution expansion board.

Large Sediment Filter:

Low micron filter removes sedimentation and helps protect RO membranes from fouling.

Large Carbon Filter:

Reduces RO membrane fouling by removing chlorine and organics.

Open Frame:

Corrosion resistant & epoxy coated with serviceability in mind.

Adjustable Low Pressure Switch: Low pressure switch is a safety device which protects the pump from running dry when there is an insufficient feed water pressure.
Highly Accurate Concentrate Valve:

PVC needle valve regulates the system's recovery, the product to waste ratio.

Panel Mounted Flow Meters:

One Product & One Waste flow meter enables the Operator to accurately adjust product to waste ratio and monitor system performance.
Reverse Osmosis Membrane Cleaning Service & Rates
RO Membranes require periodic cleaning due to fouling and/or scaling of the RO membrane surface, which occurs over time as the membrane continues to reject impurities from the feed water. The result is higher operating pressures, less output and a decrease in water quality. For a typical RO system, membrane cleanings are required every 3 to 12 months depending on the application. Damage and a loss of salt rejection may occur if periodic cleaning is not performed.
Clear Water Filtration can facilitate membrane cleaning based on a recommended service frequency.
RO MEMBRANE CLEANING SERVICE

4.0" RO Membrane (shipping fees not included)

$220.00

Per Membrane

8.0" RO Membrane (shipping fees not included)

$300.00

Per Membrane